Fighting is for the Soul, Not for the Belly

A Tribal Villager
Joram is an authentically crafted, brutal and raw depiction of the lives of tribal people in India. It is an eye-opening and important piece of cinema that will tug at the viewer's emotions. Director Devashish Makhija has crafted a film that is relentless in its exposé of various socio-economic issues including political landscape, gentrification, mining, deforestation, etc. This is as realistic as any film can ever get to in the portrayal of the cruelty human beings dish on other human beings in the name of caste and the social hierarchy of the so-called people who aim to use the 'Power of Status' to do as they please. The dog-eat-dog mentality is where anyone will do anything to get ahead in life, to make a statement, to cover up mistakes and where the rich get richer and the poor get poorer.
The opening scene introduces us to Dasru (Manoj Bajpayee) who is singing for his wife Vaano (Tannishtha Chatterjee) as she plays on a swing in a rural village in Jharkhand. The next scene is set 5 years later in Mumbai where they are both working as laborers at a construction site. At the site, Dasru is asked where he is from by a local politician Phulo Karma (Smita Tambe) and Dasru reluctantly ends up revealing that he is from Jharkhand. This triggers a chain of events that sends Dasru on the run to survive along with his 3-month daughter, Joram. Dasru is falsely accused of a crime and is chased by a police officer Ratnakar (Mohammed Zeeshan Ayyub) from Mumbai to his village in Jharkhand. The journey that Darsu embarks on and the grave injustices that he sees in his village begin to tear him down slowly.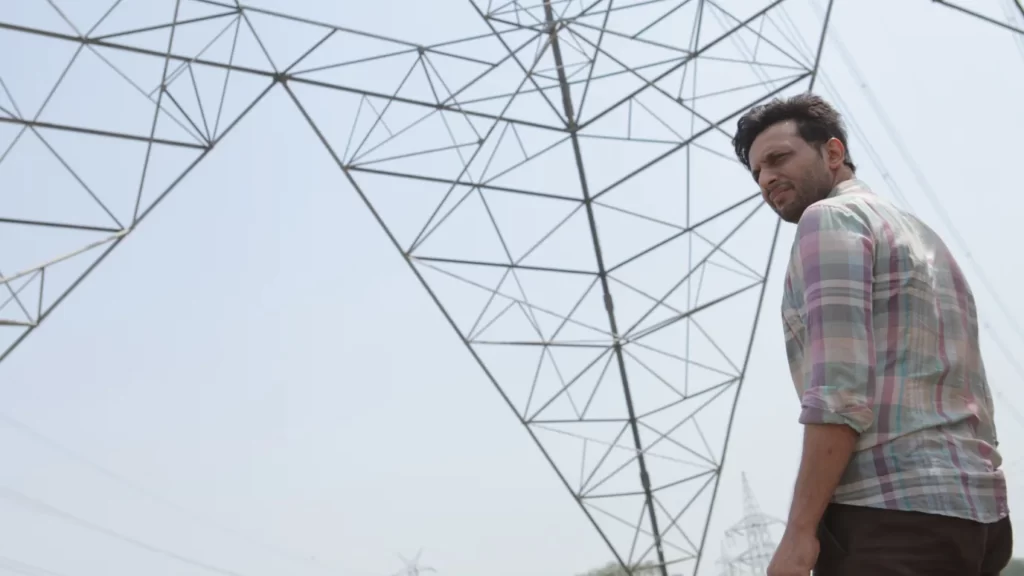 The sad reality is that Dasru is unaware of what is going on. As the director peels back the layers of his past, we are shown that his people were being forced to relocate and move out of the village for companies to urbanize the area. To fight back, Dasru joins an extremist group, not because he wants to, but because he genuinely thinks he could make a difference. But, the brutality and the killing that he was forced to be part of was too much for him to bear leading him to run away from his own land. His past eventually catches up to him but he is not alone. He has his daughter, Joram, with him and she has no one else in this world, that has been nothing but cruel to her kind. The harrowing experiences Dasru and Joram endure as they try to escape the law as well as how Dasru's past ties up to his predicament make up the rest of the film. This is the thrilling element of the film as you cannot but empathize with them and you are not just rooting for them. As the audience, you are rooting for justice, you are rooting for a 3-month-old baby to be safe and make it in this grim world but lastly, you are hoping against hope for a happy ending. That feeling, that emotion, as we sit through the dying minutes of the film with all sorts of thoughts rushing in our heads as the cliffhanger ending gets the credits rolling, this is what the director wants us to experience. The question we would ask ourselves is "How far would we go to protect our own"?
Manoj Bajpayee has acted his heart out for this film. As the film is seen through his eyes, he has less dialogue to deliver. As a result, he brilliantly uses his eyes, facial expressions and body language to act and what we get is a performance where he pushes himself. The pain his character goes through is something that cannot be acted, it is a feeling and experience, and Manoj Bajpayee's acting prowess enables us to feel the same. Smita Tambe as the conniving and heartless local leader Phulo Karma gives a career breakout performance which is sure to earn her worldwide recognition. She elevates every scene she is in and I can not help but applaud the conviction with which she portrays her character. It is truly a masterclass in acting. The rest of the cast namely Mohammed Zeeshan Ayyub, Rajshri Deshpande and Megha Mathur (known for her breakout role in "Jhini Bini Chadariya") also deliver brilliant performances. Everyone is at the top of their game. It felt like they really wanted to be part of this project and the end result shows the same.
The cinematography by Piyush Puty deserves a special mention as it truly fits in with Makhija's minimalist filmmaking style where realism is blended nicely with some very unique camera angles. There are some clever, technically magnificent shots in this film. No unnecessary camera angles or over-the-top editing with multiple angles which makes it an easy watch on the eye. My favorite scene is the one where Ratnakar is chasing Dasru at night with his flashlight. Now, normally the person chasing would hold the flashlight up as they are running but that is not necessarily what happens in reality. As Ratnakar is running as fast as he can, the flashlight moves up and down with his arms, so the light moves up and down and the focus on Dasru keeps switching between light and dark. It adds that mystery element to the scene where we don't know if Ratnakar will catch Dasru or not. The editing and sound departments did a fantastic job as well to dictate the pacing and create the surreal unreal atmosphere the characters live in. The moving yet thrilling experience is enhanced by the brilliant sound design as well.
The pacing of the film was perfect. I would have preferred a slower pacing so I could enjoy the characters and atmosphere a bit more but since the film is marketed as a thriller, the pacing reflects the genre to some extent. Joram is Devashish Makhija's 'Dance with the Wolves' where he shows us the Wild Wild West in India. It also tells us that he has a good eye for storytelling with every film of his being very unique and different. He is operating at his peak with Joram and one cannot imagine the heights to which he can go. Why this movie took years to make is beyond me. There are films that we watch to escape and then there are films we watch to live and feel the experience. Joram is a film you cannot escape from as it is showing us nothing but the truth. All the social, political and economic issues are happening right now in India and if there is no other way for the lawmakers and public to understand, then films are the only way to go.
Joram had it's US premiere in the snapshots category at the recently concluded Chicago International Film Festival (CIFF).