Footprints on Water, Nathalia Syam's debut feature film, centers around an immigrant Raghu who struggles to make ends meet in Birmingham, London. The story dives into the complexity and rigor that the protagonist had to undergo to fulfill his dreams and aspirations in a nation that is away from his motherland. The story also sheds light on the societal barriers and prejudices that immigrants often encounter, highlighting the importance of empathy and understanding in fostering a more inclusive society. The filmmaker skillfully explores the universal themes of identity, belonging, and the pursuit of happiness. It serves as a poignant reminder that compassion and acceptance are crucial in building a harmonious multicultural society.
Raghu (Adil Hussain) is an immigrant in Birmingham, UK, lacking legal documents. Raghu was a successful businessman in Kerala, India, but due to betrayal from his clients, he fell into the gallows of debt with life-threatening consequences. Along with his wife Sudha (Lena) and daughter Meera (Nimisha Sajayan), he had to shift to the UK. Upon reaching foreign soil, Raghu and his family were left with no option but to share housing. Moreover, as they lacked valid visas, they all had to work for a pitiful salary. Raghu regrets making this decision, but he is forced to remain in the UK until he can earn enough money to settle the debts back home. Despite the challenges he faces, Raghu is determined to create a better future for himself and his family. Raghu has been working with his boss, Alexi, who is a fraudulent solicitor and earns a livelihood by making fake passports and visas for desperate immigrants. Alexi is impressed by Raghu's dedication and helps him find an ideal groom for Meera. But on a fateful night, after a contentious argument with Raghu, Meera storms out of the house and does not turn up the next day. Raghu starts looking for her and soon it occurs to him that he has lost everything and everyone important to him in his pursuit of economic stability.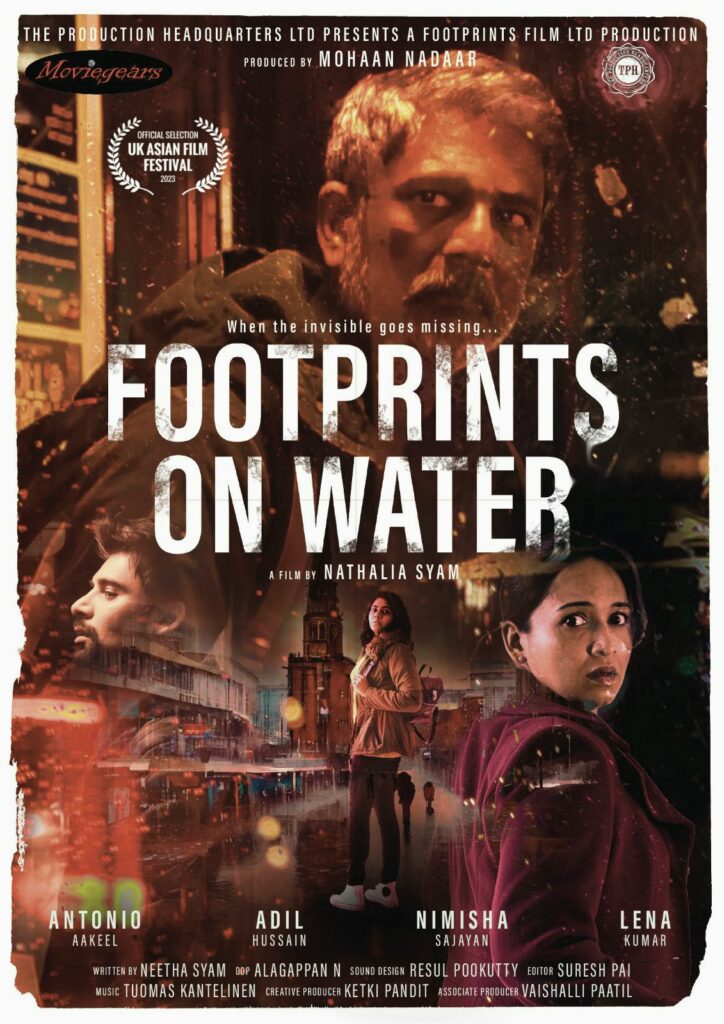 Nathalia Syam and her screenwriter, Neetha Syam, have constructed a gloomy reality through the film, where human aspirations are pulverized in front of gruesome circumstances. As the plot develops, it offers many surprises and exposes the dark nature of human nature, where situations force people to face their worst fears and make difficult decisions. It explores the commonalities shared by people in a world filled with uncertainty and unpredictable events and the bonding that occurs when individuals are pushed to their limits. For instance, the housing that Raghu shares with his family is also inhabited by Sri Lankan immigrants, and both families have formed a strong bond and sense of community. The shared housing serves as a testament to the power of acceptance and embracing diversity. It demonstrates that people from different backgrounds can come together and create a harmonious living environment. So, the protagonist's journey becomes a testament to the resilience and strength of immigrants as they navigate unfamiliar territory and strive to create a sense of belonging in their new home. They are frequently reminded of their origins and the path that took them to this point as they handle the difficulties of integration and cultural differences. Despite facing numerous obstacles, they remain determined to overcome adversity and build a brighter future for themselves and their loved ones. It emphasizes the lives of many immigrants around the world whose tenacity and resolve show how their choices shape their quest for a better future or trap them in a cycle of hardship and despair.
Footprints on Water also trace the unfolding of Raghu's conscience. In a dismal urban setting where amorality rules the hearts and minds of so many jaded people, the theme of the film celebrates the power of redemption and moral awakening. On reaching London, Raghu realizes how he has been cheated of a prosperous and lucrative career. Though he feels a deep sense of disappointment and betrayal, he doesn't let it consume him. He decides to stay back and work as an employee for an employer who makes counterfeit documents in return for a hefty sum of money. In the process, Raghu also saves his earnings for a better future, hoping to clear all his debt back home in India. But when a crisis strikes and he is in a position to help Navami (Ketaki Narayan), an immigrant from Sri Lanka, Raghu betrays her without letting her know. So, as Raghu begins looking for Meera and meets one difficult circumstance after another, it works as a process of cleansing himself and finding redemption for his actions. Moreover, his racist attitudes towards Muslims, particularly Pakistanis, are challenged and transformed as he encounters Meera's ex-boyfriend, Rehan (Antonio Aakeel). As a result, the story of Footprints on Water revolves around the protagonist's journey of self-discovery and personal growth. Throughout the film, Raghu's encounters with difficult circumstances force him to confront his own flaws and prejudices ultimately leading to profound personal growth and a newfound understanding of love and forgiveness.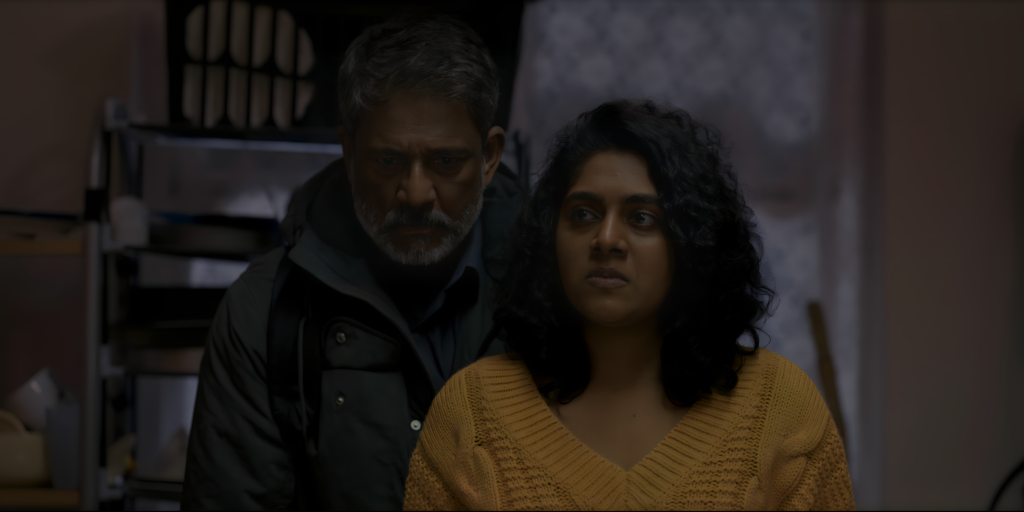 The cinematography by Azhagappan uses light carefully to create mood and atmosphere, reflecting a grim world where hopes are afloat. He frames the characters, creating a sense of fluidity, momentum and immediacy. Suresh Pai, the editor, finds the right rhythm and pacing from each act to the next, which enhances the emotional journey of the film, unflinchingly expressing everything from the horrors of alienation to the redemption of acceptance. The sound design by Resul Pookutty and the background score by Tuomas Kantelinen create an aural ambiance in support of the stark reality of the tale.
Adil Hussain portrays Raghu with restraint and evocation as a straightforward man with unwavering strength of resilience. Nimisha Sajayan brings vulnerability and intensity to the character of Meera. Ketaki Narayan, as a helpless mother and a caring friend, brings a sense of empathy and compassion to Navami. Antonio Aakeel brings an appealing presence to the character of Rehan, whereas Danny Sura as Alexi plays his role with an evil charm. The rest of the supporting cast also brings authenticity to the film. Footprints on Water gain creditable cinematic points for providing a bleak window into a hidden and unknown world with brutal honesty. It raises issues regarding humanity and ethical principles and does it in a way that is concrete and ought to serve as a scary reminder of how intricate the immigration issue is. The viewing experience serves as a poignant commentary on the complexities of immigration policies and the need for compassion and empathy in addressing this global issue.