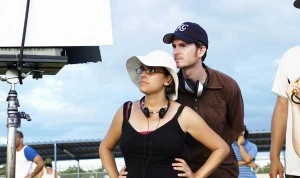 Ryan Fleck and Anna Boden are working on a film that will sure to tickle your funny bones. Their last two films Half Nelson and Sugar were two gems. The new film is called It's Kind of a Love Story. It is based on a novel of the same name. We had already reported that Zach Galifianakis will be a part of the film.
Keir Gilchrist, who is known for his role in United States of Tara, has landed the role of Craig, a teenager who finds himself in an adult mental ward. Galifianakis plays a ward member who ends up becomes his mentor. The film will be joined with Emma Roberts, who play a teenage love interest in the ward, Viola Davis, as the head doctor in the ward, and Lauren Graham and Jim Gaffigan, who play Craig's parents. Aasif Mandvi and Zoe Kravits round out the cast.
Galifianakis will be perfect for this film. The directing duo will also be working in tandem with the genius of Zach. The film will be beautifully nuanced.