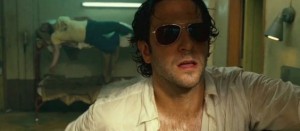 The first featurette from the movie is finally out. This movie takes place two years after the original and see Ed Helm's character about to get hitched. Obviously things go to the worse and they need to go on their bachelor stag do party which just like the first film, ends in crazy consequences.
Todd Phillips returns to direct and all the main cast are also back for this one. There will also be some interesting cameos this time around.
Synopsis: "The Hangover Part II" is director Todd Phillips' follow-up to 2009?s smash hit "The Hangover," which became the highest-grossing R-rated comedy of all-time and also won the Golden Globe for Best Film – Comedy or Musical. Reprising their roles from "The Hangover," Bradley Cooper, Ed Helms, Zach Galifianakis, and Justin Bartha star in the film. Jeffrey Tambor, Ken Jeong and Mike Tyson also rejoin the cast. In "The Hangover Part II," Phil (Bradley Cooper), Stu (Ed Helms), Alan (Zach Galifianakis) and Doug (Justin Bartha) travel to exotic Thailand for Stu's wedding. After the unforgettable bachelor party in Las Vegas, Stu is taking no chances and has opted for a safe, subdued pre-wedding brunch. However, things don't always go as planned. What happens in Vegas may stay in Vegas, but what happens in Bangkok can't even be imagined.
Tell us what you think of this featurette and we will be out with our review tommorrow for this crazy ass movie. Stay Tuned.