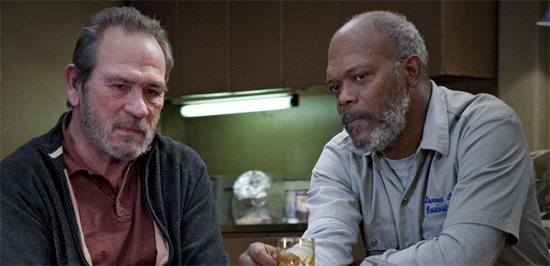 Cormac McCarthy is known for his work on with some great directors. The only good adaptation that comes close to his work is the Coens brother adaptation called No Country of Old Men, which starred Tommy Lee Jones. The film features two men, called simply Black, a Christian ex-con and White, and atheist professor, taking in Black's home after he saves White from a would be suicide dive into the path of a train.
Tommy Lee Jones directs and plays White, with Samuel Jackson as Black. The two actors coming back to work on their best is an interesting proposition to wait for. But we are still skeptical of what Samuel Jackson can bring to the floor. Tommy Lee is known for his exceptional work on the Three Burials of Melquiadas. So it will be fitting for him to take on the role of the director once again for a project like this.
The film premiers on Feb 12 th. Here is more info on the plot.
The historical Sunset Limited was a transcontinental train that crossed the American south from Atlantic to Pacific. Metaphorically, to ride the sunset limited is to take the mythic train west, to go to the western wall, to sail over the edge of the world. The literal train in McCarthy's The Sunset Limitedis a New York subway, but the destination of the suicidal professor White is the solitude of death, an escape from the hell of other people, from the human history of war and genocide, and from his own intractable alienation.
The film seems to be in the same territory as some of Tommy's recent work. Please watch this space to get more info on this movie.
Source: Slashfilm