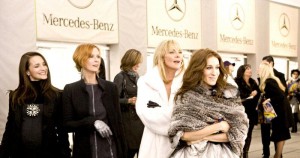 Warner has finally debut their sneak peek in to the world of the Carrie girls. The stars need to be mentioned here: Sarah Jessica Parker, Kim Cattrall, Kristin Davis and Cynthia Nixon.
The expectations are sky high for this and nobody is really complaining about the outcome of what is in store for the audience. Sometimes the ladies really need to get away from all this.
Sex and the City 2 is the follow up to the first feature from 2008. That original film was inspired by the phenomenally popular, award winning HBO series that is based on the writings of Candace Bushnell.
The film is written by Michael Patrick King who previously wrote, produced and directed last year's Sex and the City movie and also worked on the show when it was on HBO. Warner Brothers will be bringing Sex and the City 2 to theaters everywhere starting may 28 th 2010 next summer. Get ready for another box office hit, that is for sure.