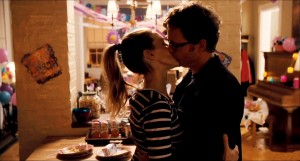 After Sarah's work on the horrible sequel to Sex and The City. She really needs to bounce back and get things back to where it was. She really loves her job. But this time around she plays a mother with two kids and a husband. Sarah Jessica Parker is an overworked, professional new Yorker comple with self aware voiceover and beautiful friends feels like another Sex and the City redux.
It is based on the book by British author Allison Pearson, the film is about a woman who has to balance her life in the financial fast lane along with her family and friends. The film is directed by Douglas McGrath and it stars Pierce Brosnan, Kelsey Grammer, Olivia Munn, Christina Hendricks, Seth Meyers, Jane Curtin and Greg Kinnear. The film is expected to come out sometime in September 16 th.
There are some odds in favor of this film because of the hugely talented supporting cast.
Here is the synopsis of the film via Slashfilm.
Kate Reddy devotes her days to her job with a Boston-based financial management firm. At night she goes home to her adoring, recently-downsized architect husband Richard and their two young children. It's a non-stop balancing act, the same one that Kate's acerbic best friend and fellow working mother Allison performs on a daily basis, and that Kate's super-brainy, child-phobic young junior associate Momo fully intends to avoid. When Kate gets handed a major new account that will require frequent trips toNew York, Richard also wins the new job he's been hoping for — and both will be spreading themselves even thinner. Complicating matters is Kate's charming new business associate Jack Abelhammer, who begins to prove an unexpected source of temptation.