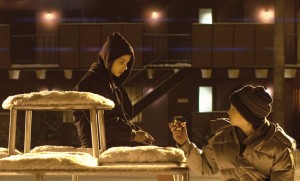 This is the second trailer for the movie which has been getting some good press. So when the international trailer came out they just had footage of the central characters. But in this new one we get to see footage of Richard Jenkins in it.
The film stars Kodi Smit-McPhee and Chloe Moretz and centers on Owen. He is a twelve year old boy who befriends Abby, a mysterious young newcomer in his small New Mexico Town. Things begin to unravel the moment the newcomer arrives to the town. The film is based on the book by John Ajvide Lindqvist. It has already had an adaptation in its native tongue to great critical acclaim. So it is going to be quite difficult for Matt Reeves whose previous work was the silly Cloverfield.
The trailer gives away quite a lot of the plot. The film is expected to release on October 1 st via Overture.