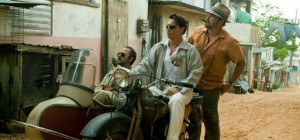 The rum Diary came out of nowhere with a beautiful trailer and we kind of missed it. The Rum Diary was written by Hunter S. thompson and it was written in the 60s. It was one of Johnny Depp's favorite books. So he lend him name to reprise the character once again.
The film adaptation took sometime to get a release in the US. Finally out there and will be coming out in a theater near you. Johnny Depp will be playing Kemp in the film. This will be the second attempt by Johnny Depp to play a character so close to Hunter S. thompson. This time, drugs have been swapped for rum, the deserts of Vegas for the oceans of Puerto Rico.
The film also stars Amber Heard, Aaron Eckhart, Richard Jenkins, Giovanni Ribisi and Amaury Nolasco. The trailer is like a prized possession. I m really happy that it has found stateside release. It will be coming out next month on the 28 th.