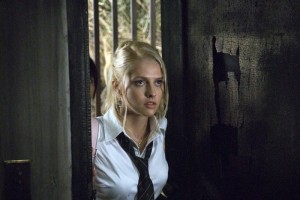 She was last seen in I am Number Four and also the comedy dud Take Me Home Tonight. Teresa Palma will take on a genre mash up next. The actress will be starring alongside Nicholas Hoult in the big screen adaptation of Isaac Marion's novel Warm Bodies, a zombie love story from director Jonathan Levine.
The story follows an existentially tormented zombie named R that begins an unlikely friendship with the human girlfriend played by Palmer of one of his victims. The blossoming relationship stars a chain reaction that will transform him, his fellow zombies and maybe the whole lifeless world. This will be something to watch out for in the coming weeks.
Palmer will play the daughter of one of the human military leaders who is tiring of a life of constantly fighting off zombie attacks. Summit Entertainment are the guys behind bring this film to a screen near you. It hopefully will not have the same silly melodramatic tone of the other films from the same production house.