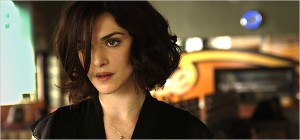 Rachel Weisz has been choosing her projects quite carefully in the last couple of years. She has signed on to work with the eccentric Terrence Davies. He has been working on an adaptation of Terrence Rattigan's drama classic. The film will be called Deep Blue Sea.
Rachel Weisz will be playing the suicidal wife of judge in 1950s Britain, locked in a destructive affair with a former RAF pilot. It will be the biggest films for next year.
The cast of the film has become a little bigger with the addition of Tom Hiddleston and also Simon Russell Beale who will play her estranged husband.
Russell Beale is known as a great actor in the theater world and has not really gotten into film. He is known for his work in many of Sam Mendes' plays. He was last seen in a lesser known film called The Gathering. The shooting for the film is expected to start as soon as November. But I'm really excited for Rachel Weisz with all the projects she has been signed on for the last couple of months.
Source: The Playlist