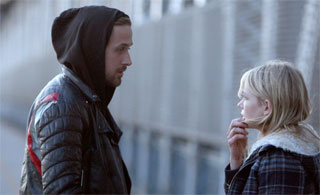 Ryan Gosling has been virtually out of sight for almost three years now after the Lars and the Real Girl. Now the Oscar nominated actor is all set for two released next year.
I think his performance in Half Nelson is what made him who he was. An Oscar nomination for that assured him a shot at the big league of actors. He was sort lost for the last couple of years in his band called Dead Man's Bones. Dead Man's Bones are known for some Halloween style music, children's choirs and inventive songwriting.
The first feature he shot after the hiatus was All Good things. In this film he stars alongside Kirsten Dunst and it is produced by the Weinstein Company and will be coming out only in 2010 now. The other film is Blue Valentine co starring Michelle Williams which deals with the evolution of a contemporary married couple.
The other film in the works is by Derek Cianfrance. Derek was known for his debut film Brother Tied and he has done several musical projects with Mos Def and Run DMC. This film is about a couple in the midst of a breakup coming on their tenth wedding anniversary. The story like many of the recent indie flicks cross cuts between time periods as they recall their better days. The two of them are pretty much the best of their generation.
There is another film also with Ryan Gosling was supposed to be star in The Dallas Buyer's Club about a man in the 1980who is diagnosed with HIV and starts toying around with underground drugs not approved for use in the U.S at the time? Gosling was supposed to star in this film but something happened to the project. But it seems that has not really found any funding. Derek Cianfrance also direct another movie before this film with Ryan Gosling which is yet to be released called Metalhead.