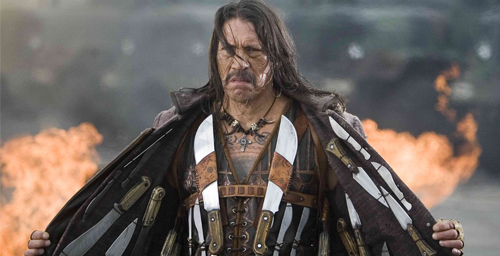 If you want to have the sadistic pleasure in seeing people's brains been blow off to smithereens and scantily clad or nude women with cheezy dialogues and mediocre acting, then Machete is the perfect film for you to watch this week.
Based on a fake trailer released along with the double-feature Grindhouse,directed by Robert Rodriguez and Ethan Maniquis, Danny Trejo plays Machete, a highly skilled ex-Federale from Mexico looking for work, who is hired by a man named Booth (Jeff Fahey) to assassinate Senator McLaughlin (Robert De Niro). He is soon betrayed by his employer and he plots revenge with the help of resistance fighter Luz (Michelle Rodriguez), ICE Agent Sartana (Jessica Alba), and the Priest (Cheech Marin).
Danny Trejo, in his first lead role, is what makes this film highly watchable. He has screen presence. He is noticeable. His whole look and deadpan expression is perfect for this character. He is like a force of nature, pretty much nothing gets in his way. His portrayal of Machete may not be complex or subtle, but he is unwavering with stubborn toughness. Michelle Rodriguez is certainly not unfamiliar with playing tough chicks, and she is in usual good form here as Mad Max-style resistance fighter, Luz. The beautiful Jessica Alba, however, isn't very convincing as a federal agent, she just isn't intimidating. Jeff Fahey is diabolically fun to watch as the villain, Booth. Steven Seagal plays the drug kingpin, Torrez. While it's hard to see him as a Mexican kingpin, he is generally playing a bad guy version of himself, which, honestly, is all we can ask, want, and hope for.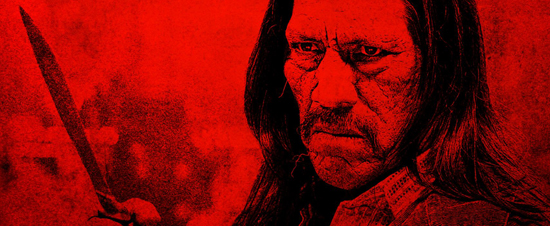 The action scenes are a lot of fun, especially whenever we have Machete wielding his machete against a group of baddies. He is quick. Things get bloody. Like a samurai film, limbs get chopped off and go flying with old-fashioned fake blood. The story itself is mostly silly, which involves resistance fighters, a priest turning into a shot-gun-wielding vigilante, and odd coincidences. There are also political issues abound, mainly regarding illegal immigration. The film doesn't always cohesively work together thus losing some of its tension and buildup even if they may be cool to watch.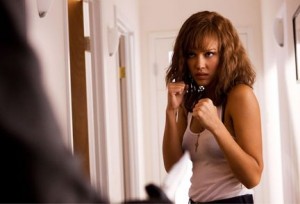 Overall, I enjoyed Danny Trejo playing Machete, and ultimately, he makes the film worthy of viewership. The fights are fun to watch. I enjoyed the quirkiness of the humor. The characters are fun. The visuals are nice. My only problem was the editing, it felt a bit too rushed and done for the sake of it. The plot tries to do many things, which I felt didn't come together as a whole. Perhaps it's the constant pace of the film, but it felt like a series of ongoing events, which didn't really stand out after a while, they often felt similar to each other, more visually interesting than engaging. Whatever criticism one can think up, I suppose one can always counter with "that's how B-movies are supposed to be."
[rating:7/10]