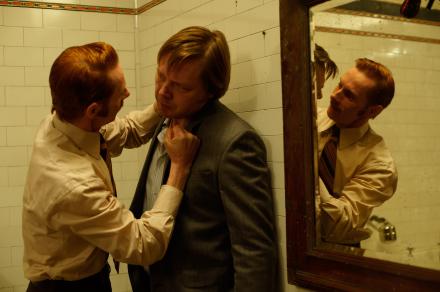 Peter Hunter: So when someone kicks down your front door, kills the dog and rapes the wife, who you gonna call?

Martin Laws: Well it certainly wouldn't be the West Yorkshire Police – they'd already be in there, wouldn't they!
Such is the morality of this shanty Yorkshire town where everything really goes. It is exactly 6 years after the events of the last killings of the small children. The pieces of the story don't necessarily fall in place. But there is enough of room for shadows of doubt. The themed of Police corruption is nothing to the cinematic world. When it is done with a little sensitivity it can make all the difference.
By mixing fictionalized 35 mm footage James Marsh creates case that breathes a convoluted reality. His deal is not link to anything from the previous film. But to let the characters bring different shades to their personality. He probably is giving us a sense of time passing and people changing. So Hunter played by Paddy Considine is assigned on the Ripper case after a failed Karachi Club massacre. These events shield us from understanding the plot but give us necessary clues to join things together.
The case deals with one of Ripper's killings of Clare Strachan which might be a copy cat murder. The murder is not something the police want to investigate because of the history behind this woman. So when Hunter runs on the trail he meets BJ a man who gives his info that might lead to the solving of the case. But can Hunter trust this giglo who seems to have another hidden agenda.
In between all this Hunter chooses a team to investigate this case. The team has a woman who he has had a relationship and the other an old time buddy of his. The investigation leads them to a lot of loopholes and also links with several older cases. Hunter takes a little too far by questioning people in the department.
The film is laden with pimp priests, affairs, corrupt cops and pornographic victims. But unlike its contemporary Sin City it is more immersed in its reality. We are lying in the corner of a catastrophe waiting to spill on the screen.
This film for some might turn out to be a little better than the predecessor. But don't forget that its feat was matched only by what the previous film let it have. We are not being sinister and avoiding the feat achieved by James Marsh. His first couple of reels feels like a really depressing music video. He adds so many dark tones and some beautifully shots of faces.
He leaves a restraint territory for star Paddy Considine to work with. But it is the supporting role of Sean Harris that really pulls the carpet of Paddy's feet. He really gives the series a much needed breather. But all this said and done we are dealing with a really horrific set of events there is no room for respite. I just hope most of you will be able to stomach this masterpiece.
[rating: 8/10]