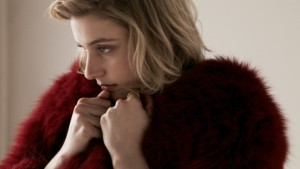 Greta Gerwig has been out of sorts lately with an appearance in the box office smash No Strings Attached. She is also working the planned film by Whit Stillman called Damsel in Distress. Gerwig will be going back to her safe indie zone with this film.
The film will be releasing in the fall this year. Damsel in Distress actress had this to say about the director
"I was waiting for a very long time for that man, Whit Stillman to make another movie, and then I got to be in it!….It's very cool. I utterly worship him as a writer and as a filmmaker."
Gerwig also confirmed some previously rumored plot details about project:
"I play a character named Violet. It takes place at a liberal arts college on the East Coast and I run a suicide prevention center where I help suicidal and depressed students overcome their tendencies through staging musicals with them, and teaching them how to tap dance and sing in musicals. And helping them dress well and wear nice perfume. And I have congery of girls, which kind of follows me around. But then it's kind of the perils of love, and just these wonderfully eccentric characters."
Gerwig has gotten a hang of the world made by Stillman. Here is some of the excerpts from the interview "I was so scared when we first started because I so clearly have… you know, the way Chris Eigeman says things, or the way Kate Beckinsale in The Last Days of Disco says things, it's so burned in my mind. The way they talk. And I didn't want to imitate them, but I was also aware of Whit Stillman speak. But once I got into it, I think what's really nice about working with a writer/director is that they really have their own rhythm, so even if it is a lot of words, once you start doing it starts becoming natural and organic to you and you kind of start speaking like that all the time. I started saying very Whit Stillmany things as I was making it which I think was really annoying to my roommates. But I would say, 'and yet…' and then I'd keep taking and they were like, 'why are you qualifying everything you are saying?' and it was like, because now I'm thinking like that."
Arthur is another film that she also talked about. Greta Gerwig described her character as one of those New York girls who has always got a lot of things going on, and interesting things happening and too many places to be at once. And I liked…I know those girls, and it was really fun to play someone who is kind of on the go, and just exciting. Like she is like the city, she is all heart. I think she is like New York City. For free you can walk around, for free you can go to Central Park, for free you can go to the Metropolitan Museum of Art and see Van Goghs and Rembrandt, for free! And I think that was what was neat about playing the character in the world of Arthur, who has also this money. Is that I got to play the voice of, 'but its New York City and its here for everyone.'"
She will also be seen in the next Noah Baumbach film titled While You're young.