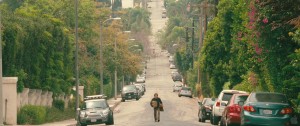 Noah Baumbach gets Ben Stiller to work with him again on another film titled While we are Young. James Franco is also said to tag along on the picture. The two of them just worked on the lukewarm Greenberg. Stiller is currently shooting Tower Heist and is lost in translation out there.
So the trio Baumbach, Stiller and Franco will be teaming up on While we're young with offers out to Greta Gerwig and Cate Blanchett to join the cast. It is still in the negotiations stages so we will have to wait for an official announcement. The story is quite closely guarded and tells about a couple who inspires an uptight documentation and his wife to loosen up with comedic consequences.
There is still no word on when the film will begin shooting, but it is expected to be a early 2011 shoot. Cate Blanchett will be part of the cast only if she is not called out to play the role she did for the Lord of the Rings series. So we will have to wait for the word on this.