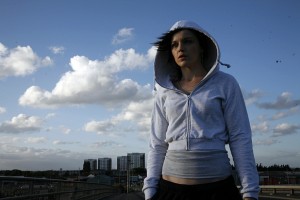 Fish Tank was one of the favorites of the recently concluded Cannes Film Festival. It certainly was another homecoming for director Andrea Arnold. Her last film Red Road was more in the lines of 21 grams with its interconnected story lines. The film brought out a new starlet in Katie Jarvis. Her performance was easily the most talked about of the festival. Michael Fassbender also stars in this film. It is lesser role for the man who played Bobby Sands with such conviction.
The film is a charcter driven film. It tells the story of a 15 year old girl whose life takes a turn for the worse with arrival of a visitor (Michael Fassbender plays her mother's boyfriend). The film almost echoes of another star turned film Sumersalt played by Abie Cornish. But this film is a little bit too gritty compared to that. The film does have a hidden fairy tale tendency that gels with its narrative. It also stars Kierston Wareing, Harry Treadaway. The film is expected in UK on September 11 th. Nobody really cares for a US release date.
Coming to the trailer it really works. It creates the right atmosphere for these characters. The jokes are ripe and the intentions are steadfast. This is something you got to check out.