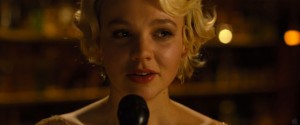 Carey Mulligan serenades over the whole trailer and gives us an impending doom into the character played by Michael Fassbender. There are going to be some signature long takes in this film and some beautiful use of sound design. It can already be seen in the trailer.
Carey Mulligan seems to love her role as the powerful supporting role in her last couple of films. She will also be seen in the Great Gatsby alongside Leonardo DiCaprio and Tobey Maguire. Everyone seems to be excited to work alongside. It just took a single flicker of her eyelashes and calling out on New York. This one is going to be unforgettable.
The energy reminds me a lot of Biutiful that was a complete miss. But Steve McQueen seems to be hitting all the right spaces with this film. He is also never afraid of using natural light for many of the outdoor shots. New York will want him to revisit the city again. It was his most difficult test to make New York fresh. Tell us what you think of the composition of some of shadow play in this trailer.