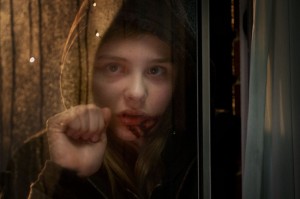 The images for the film will surely hurt the hardcore sentiments of many of the fans of the original. But there needs to be a space provided for the look of this film. There is certainly going to be a barrage of people going to hate this including me. Don't worry it won't turn out to be as good as the Swedish version.
The film is based on the novel Let the Right One In. It is certainly going to be a powerful adaptation but not as good as the Swedish counterpart. The first image of Chloe Moretz as the vampire Abby in Matt Reeves English language remake Let Me In has just surfaced via a story in Entertainment Weekly.
There are a lot of untapped elements in the book that could allow Reeves to provide an original look through all the various other concepts which are part of the book. The casting on this film has been alright especially Richard Jenkins. So let's hope for the worst.