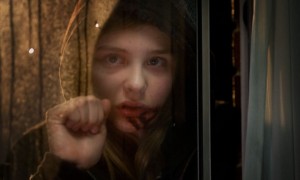 Tim Burton is all set to start with his next film with Johnny Depp. It will be called Dark Shadows. Chloe Moretz has joined the stellar cast for the film. Chloe Moretz is also working with Johnny Depp in the film he will be producing with Martin Scorsese. She will be playing the role of Carolyn Stoddard.
Carolyn is the daughter of Elizabeth Collins Stoddard, who will be played by Michelle Pfeiffer in the film. The character played by Nancy Barrett on the original 60s soap opera. The rest of the cast includes Johnny Depp as Barnabas Collins, Michelle Pfeiffer as Elizabeth Collins Stoddard, Helena Bonham Carter as Dr Julia Hoffman, Michael Sheen will be taking on the role of Roger Collins and Jackie Early Haley is also part of the cast. It seems tailored made for something special.
The roles will be something to watch out for on the big screen. Tell us what you think of this casting coup.