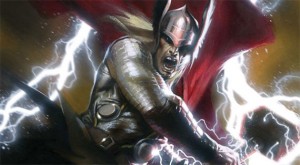 Thor is getting better by the day I guess. Everyone seems to be jumping on board for this one. The film will be directed by talented Kenneth Branagh; taking up his first comic book movie and placing the hands of the main protagonist on Chris Hemsworth. His father will be played by Anthony Hopkins which we have already reported.
Now there is new about his army being played by Stuart Townsend, Ray Stevenson and immensely enagaging Todanobu Asano from Mongol. They will be playing the Warriors Three. They are fighters who fight alongside Thor.
The Warriors of Three is made up of Fandral, Hogun and Volstagg, who are original characters created by Marvel and not based on Norse mythology like most characters in Thor. I think it will be great to see the first look of the film which will give us a good idea where this one is actually going. The film also stars Tom Hiddleston, Natalie Portman, Jamie Alexander, Stellan Skarsgard, and Samuel L. Jackson. Any more new on this we will keep you updated.