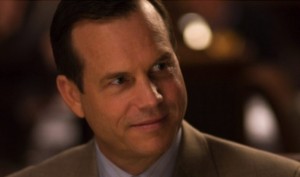 Bill Paxton will be replacing Dennis Quaid in director Steven Soderbergh in his upcoming film Knockout. The cast for this film has just been growing in the last couple of weeks. Gina Carano as a black ops specialist who goes on the run once she is been double crossed and framed by her own teammates. Quaid was going to be playing the role Carano's father but had to bow out due to scheduling conflicts with his upcoming film Soul Surfer.
French actor Mathieu Kassovitz has also been cast in the film. His role is still unknown. The rest of cast includes Michael Douglas, Ewan McGregor, Channing Tatum, Antonio Banderas, Michael Angarano and Michael Fassbender.
Dennis Quaid was great in Traffic but Bill Paxton cannot really go unnoticed. His work on films like Frailty and the TV show Big Love are really something. Knockout will start filming in Dublin and the wait to see what Soderbergh has planned for one.