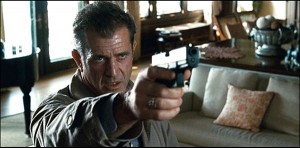 Mel Gibson said it was boredom that put him away from the limelight. Now he has a slew of releases lined up in the coming months. Next week we will see him in Edge of Darkness. It will be the first appearance of the star ever since his unpleasant appearance in Paparazzi. But Signs was the real starring role he had after that nothing really has happened.
Jodie Foster also has roped him for The Beaver. This will be Jodie's first directorial venture. He will also start shooting How I Spent my Summer Vacation really soon.
Mel will also be seen in another Shane Black film who wrote Gibson's American breakthrough Lethal Weapon. The new film is titled Cold Warrior. It is about a vetran spy who comes out of retirement to aid a younger agent when a domestic terrorism threat from Russia emerges. This will be the first time Gibson will be part of a studio film since his retirement from acting.
Shane Black is known for his work on Kiss Kiss Bang Bang. This will be a good return for the director. Gibson is also planning a Viking film with Leonardo DiCaprio sometime in the future. So Mel Gibson is totally booked for couple of years now.