When the secret Krabby Patty formula goes missing, SpongeBob (voiced by Tom Kenny) must team up with his longtime rival, Plankton (voiced by Mr. Lawrence), in order to retrieve it. I grew up watching the SpongeBob TV show, so it was nice to return to this world. Parents and children will both enjoy seeing The SpongeBob Movie. It does a great job appealing to many different ages and carefully rides the line between "a little too childish" and "fun for the whole family."
The entire gang of voice actors from the show reprise their roles, led by Tom Kenny. Kenny once again proves why he is one of the greatest voice actors ever. The rest of the cast is phenomenal as well. I laughed pretty much every time Patrick (Bill Fagerbakke) or Squidward (Rodger Bumpass) spoke which is a testament to their strong performances. Antonio Banderas is the only featured, live-action actor, and he's terrific. He had to do a lot of physical comedy, which he nailed.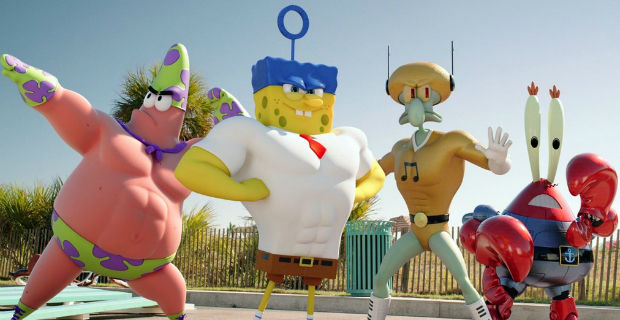 The plot and jokes are REALLY goofy. There are a fair number of fart jokes, and there are points in the movie that feel completely out of place. However all of these random jokes and plot points add to the overall charm, and they all pay off at some point in the movie. The theater I saw "SpongeBob" in had around the same number of adults as children, and it seemed as though everyone was laughing equally, just at different jokes. There are definitely jokes specifically for kids, and then there are the jokes for their parents.
One of my concerns going into "SpongeBob" was that the movie would lose its identity when the characters went from the normal animated world to the live-action/CGI world. Fortunately my concerns were unwarranted. The live action scenes are just as funny, if not funnier, than the animated ones. On top of that, the animation retains its charm from the TV show. It feels like you're jumping back into the same world as before but with a little theatrical polish.
With a movie like "The SpongeBob Movie: Sponge Out of Water," it really makes no sense to critically dissect the plot or analyze the meaning. The charm of "SpongeBob" has always been how goofy and unpredictable it is. This movie takes all the best aspects of the show and dials them up then adds its own unique twist with the live-action sequences. Fans of the TV show will love it. It's a movie that will make the entire family laugh. It might be a bit too weird for those who have never watched "SpongeBob" before, but overall it is a very enjoyable, family friendly movie.