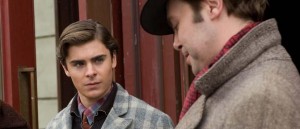 Zac Efron has kind of had enough playing the good looking guy. He wants to change his image as soon as possible. He is looking two tentative projects. One of them is a spy thriller titled Fire. It is an adaptation of Brian Michael Bendis' graphic novel of the same name.
The story of the graphic novel is in the same vein as the Bourne novels. Efron foray into the action genre is a brace, bold and smart choice for the actor to continue separating himself from the Disney teen image he had got stuck with. In Fire Efron will play a college student who is recruited by the CIA, only to find that he has been trained for a program that creates expendable agents? Efron also got this film to get the go ahead.
The other project is a Back to the Future esque project. Efron made a deal with Warner Bros to star and executive produce this other new project that combines a pitch from writers Tim Calpin and Kevin Jakubowski. The two of these guys are known for their work on Assassination of High School President. The project is called Algorithm it will be a directing vehicle for Nick Stoller. But I think the amount of talent written about here is enough to get people into the theaters.
Me and Orson Welles is also another film that many of you should check out. Zac Efron might just turn out into a credible star.