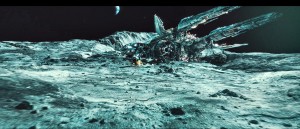 The new trailer brings a little more scenes to reveal the outcome of what is to happen in some really important scenes. Transformers Dark of the Moon looks like taking over the world with the brand new footage on it.
The film might turn out to be a show stealer for all the box office movies coming out this year. The action sequences really look they have been worked on. The final shot will be talked about in the weeks to come.
In this movie the Autobots and Decepticons become involved in a perilous space race between the US and Russia, and once again human Sam Witwicky must help his robot friends defeat enemies like Shockwave.
The film is directed once again by Michael Bay and he has said this will be the last in the series for him. The screenplay was written this time by only Ehren Kruger, who co wrote the last movie, but went solo this time and also worked on The Ring, Brothers Grimm screenplays as well. Paramount is bringing Transformers 3 to theaters in 3D starting June 29 th. Tell us what you think about this trailer.