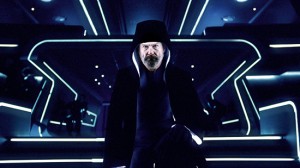 After all the work done on the film it is all set to release really soon. It is the most anticipated film of the year. So there is going to be high frequency of Tron Legacy trailers going to be out soon. These will probably the final trailer from the movie. The dual personalities of Jeff Bridges look interesting.
There will be large amount of effects in this film. Jeff Bridges will be done up also to enhance features for this film. The trailer is quite revealing and plays a variation of the Dark Knight music. Here is a small synopsis via Slashfilm.
TRON: LEGACY is a 3D high-tech adventure set in a digital world that's unlike anything ever captured on the big screen. Sam Flynn (Garrett Hedlund), a rebellious 27-year-old, is haunted by the mysterious disappearance of his father Kevin Flynn (Oscar®- and Golden Globe®-winner Jeff Bridges), a man once known as the world's leading video-game developer. When Sam investigates a strange signal sent from the old Flynn's Arcade—a signal that could only come from his father—he finds himself pulled into a digital world where Kevin has been trapped for 20 years. With the help of the fearless warrior Quorra (Olivia Wilde), father and son embark on a life-or-death journey across a visually-stunning cyber universe—a universe created by Kevin himself that has become far more advanced with never-before-imagined vehicles, weapons, landscapes and a ruthless villain who will stop at nothing to prevent their escape. Presented in Disney Digital 3D™ and scored by Grammy Award®-winning electronic music duo Daft Punk, TRON: LEGACY hits U.S. theaters on Dec. 17, 2010 in Disney Digital 3D™ and IMAX® 3D.