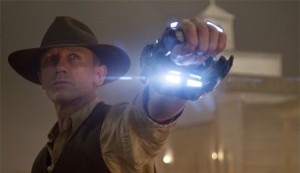 Universal Studios is out with another trailer for Cowboys and Aliens. The movie stars Daniel Craig, Olivia Wilde and Harrison Ford. They will be supported by Sam Rockwell and host of interesting cast members.
It tells the story of a stranger with no memory of his past stumbles into the hard desert town of Absolution. The only hint to his history is a mysterious shackle that encircles one wrist. What he discovers is that the people of Absolution don't welcome strangers, and nobody makes a move on its streets unless ordered to do so by the iron fisted Colonel Dolarhyde played by Harrison Ford. It is a town that lives in fear.
But the town is going to experience an event that it is not prepared for. It will probably bring out the worst in them. Tell us what you think of the new trailer. The film is directed by Jon Favreau. The film is expected to hit theater by the end of this month.