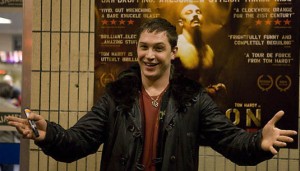 The novel by Seth Grahame Smith Abraham Lincoln, Vampire Hunter has been talks for some time now. Tom Hardy is now interested to take up the starring role in the film. The film will be produced by Tim Burton and will be directed by Timur Bekmambetov. The Inception star has been getting a lot of eyeballs and is now the most wanted actor in the industry.
Hardy broke into the scene with Nicolas Winding Refn film called Bronson. He was almost unrecognizable and stood out for the year. He will be playing the role of Henry Sturges in the historical horror flick about Lincoln. A young honest Abe has set out to avenge his mother's mysterious death after learning it was the work of a vampire. The premise is good, but they can avoid the revenge spin to it and make it worth the watch.
Tom Hardy will be versatile enough to take on this role. The president is still looking out for a star with a lot of physical resemblance to him. It will be the film to watch out for reports in the next coming weeks.