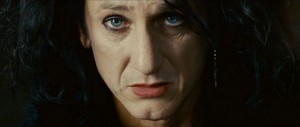 Sean Penn seems to be having a good year. He was last seen in the powerful Tree of Life which is still one of the top pics of Talking Films this year. At Cannes he also showcased another film from a powerful director Paolo Sorrentino. This is his follow up to the ciritically acclaimed Il Divo.
Sean Penn wanted him to direct his next film. The film is about Sean Penn's character who is a old rock star who finds out that his father who he has not seen for 30 years is dead. He then embarks on a road trip to find the SS officer who made his life hell when he was imprisoned at Auschwitz.
The film was showcased at the Cannes Film Festival and it really was not that well received. The overall tone of the film was something to watch out for. The cinematography is also another aspect of the director's film. If you guys get the chance try and catch Consequence of Love. This Must be the Place opens in France on August 24 th. Tell us what you think of trailer.