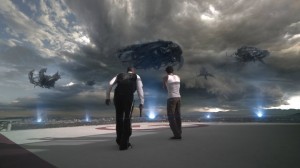 The locations are so limited in the trailer that it looks like they have concentrated on the special effects and threw the story out the window. The film is directed by Greg and Colin Strause and worked on the film together and paid for most of the film. It was one of the weirdest looking films in these years Comic Con. It had the premise to go the distance, but the trailer will alienate the viewers.
It looks like an entertaining film with less of the frills and the beautiful effect like this one in District 9. The film holds a premise of aliens entering the earth and taking people hostage. The film stars Donald Faison, Eric Balfour, David Zayas, Scottie Thompson and Brittany Daniel and opens on November 12 th.
In the science fiction thriller Skyline, strange lights descend on the city of Los Angeles, drawing people outside like moths to a flame where an extraterrestrial force threatens to swallow the entire human population off the face of the Earth.
This is surely the last time we will be following this movie.