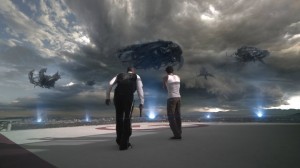 At the recent Comic Con there were several trailers, which impressed. This was one of the few that did. The film is directed by Greg and Colin Strause and it is called Skyline. But there is a lot of live action mixed with CGI going on here. So I'm not really convinced about this trailer.
The film is expected to hit theaters on November 12 th. The trailer shows strange lights descending upon Los Angeles drawing people outside like moths to a flame where an extraterrestrial force threatens to swallow the entire human population off the face of the earth.
The film stars Eric Balfour, Donald Faison, Scottie Thompson and Brittany Daniel. The trailer looks like an interesting concept, but it is still going to be a tough sell.
Source: Comingsoon.net