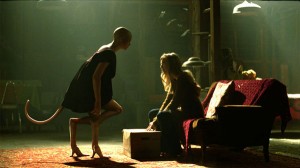 Sometimes it is wrong to question the truths of our existence. It makes for difficult viewing but will make us think about all the technology we have with us. Scarry Science Fiction has forewarned some of the bad effects of technology. But to what extent will make us think morally is the question at hand.
Vincenzo Natali's Splice starring Sarah Polley has been doing a lot of good viral marketing in the last couple of months. He has been working on making the films ending a little more tightly. Sarah Polley and Adrien Brody are researchers who create a not quite human life form. So their research gets them a little too close to their creation. But creation begins to jump up at them in various forms to create havoc.
The film was one of the surprises of last year and it was picked up by Joel Silver, Dark Castle and Warner Bros. Now the film will have a summer release. This looks like a film in the Cronenberg strata. It is going to be a film that will play on our minds and end up having a cult status.
Finally there is a theatrical trailer for the film. The film is going to be somewhere between a God complex and horror. These are two things which will make for interesting viewing or otherwise.
Elsa and Clive are a brilliant couple, biochemists who have figured out how to successfully combine different forms of animal DNA into a single creature. Their breakthroughs have many implications for the fields of science and health. But they have yet to crack the final frontier an animal human hybrid. The implication of this hybrid is what the story will concentrate on. Elsa and Ed decide to take matter into their own hands.
But the final product looks pretty decent. The scenes play out much better on the big screen. Here is hoping the best for Vincenzo.