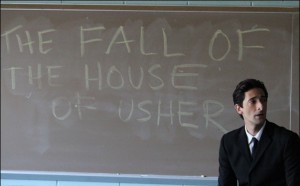 Adrian Brody is really carving a niche for himself with roles in movies like Predators and a beautiful cameo in Midnight in Paris. I will not spoil it for those who have not watched the latter. He now will be playing a teacher in the highly controversial director Tony Kaye's next film Detachment. His last outing was American History X.
The new film chronicles three weeks in the lives of several high school teachers and students as seen through the eyes of a substitute teacher, who never stays anywhere long enough to form a bond with students or colleagues.
The cast includes Bryan Cranston, Christina Hendricks, James Caan, Tim Blake Nelson, Marcia Gay Harden, Blythe Danner and introducing Sami Gayle as Erica.