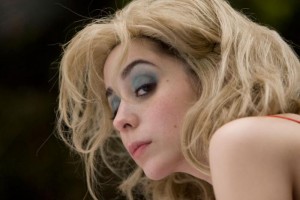 This is really not everyone's cup of tea. It is a film that will not fit the love story genre easily. It has more to do with liberation and sexual thought. It is not a film about love but lust, sex and everything perverted associated with it. So it will work in a subgenre that is rarely seen on screen unless you account for some of the Harmony Korine films.

Year of the Carnivore trailer
Uploaded by blankytwo. – Watch feature films and entire TV shows.
Year of the Carnivore is a romantic comedy drama about a girl with an unrequited crush on a boy who thinks she is bad in bed, so she goes out to get more experience in the process getting a lot more than she bargained for. Sammy Smalls is a 21 year old who works as a store detective at Big Apple Food Town. Her job is to capture shop lifters to her boss who deals them.
Her life is not really happy and she is not sure if she wants to quit. She does not want to live with her over bearing parents so she looks out for options.
Then Sammy meets up with street musician who sings like a goat. She is taken by his charm and feels a wanting. He is a perfect match but he does not want a relationship. After a one night stand Eugene the man asks Sammy to look out for new experiences. But after a while it turns into a circus of sexual favors. The trailer is R rated so viewers are advised.