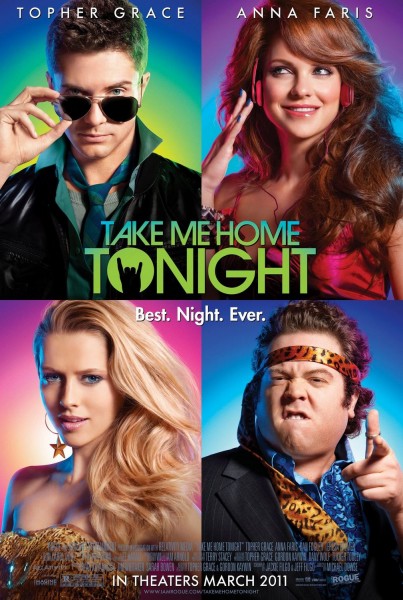 The new film by Michael Dowse is something to watch out for. It is for those people who miss the 1980s. The film stars Anna Faris, Topher Grace, Teresa Palmer, Michael Biehn and Michelle Trachtenberg.
As the summers of 1988 winds down, three friends on the verge of adulthood attend on the verge of adulthood attend an out of control party in celebration of their last night of unbridled youth. Take Me Home Tonight is a raunchy, romantic and ultimately touching blast from the past set to an awesome soundtrack of timeless rock and hip hop hits.
Recent MIT graduate played by Topher Grace should be working for a Fortune 500 company and starting his upward climb to full-fledged yuppie hood. Instead, the directionless 23 year old confounds family and friends by taking a part time job behind the counter of a video store at the Sherman Oaks Galleria. But Matt's silence protest against maturity comes to a screening halt once his unrequited high school crush, Tori, walks into the store.
When she invites him to a epic, end of summer party, Matt thinks he finally might have a chance with the girl of his dreams. Matt thinks he finally might have a chance with the girl of his dreams. He embarks on a journey with his twin sister and best friend Barry. It begins with him stealing a car to a marriage proposal to an indescribable, no holds barred dance off, these friends share experience that will change of their lives on one unforgettable night.
The film is expected to hit theaters in the US on March 4 th.