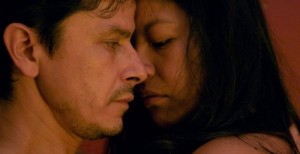 Leap Year was getting a lot of flak at the recent Cannes Film Festival for being really explicit. It was a tour de force from the actress Monica Del Carmen. She plays the insatiable nymphet who hooks up with random men for sexual encounters that leave her feeling varying degrees of unsatisfied.
The film takes a big step when she meets the unassuming Gustavo Sanchez Parra. Then the ante is heigtened and the sexuality hits dizzying heights. An affair that begins with a little S&M grows more perverse and dangerous with each session, and it is not clear who, if anyone, is in control.
The actions in the film like its formidable contemporary Intimacy speaks louder than words. Carmen gets a powerful monologue, it is an astonishing piece of writing and acting, revealing a fantasy choked in sadness, desire, and a dwindling sense of self worth. The director still loses her way in all the psychology, but the performances are still really memorable. Leap Year is showing in only a single theater right now and it does not look like it is going to get a wide one. Show your support for this beautiful film by watching it.