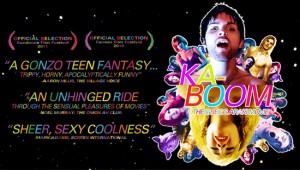 Gregg Araki is all ready to make his next film titled Kaboom. It is going to be sexually liberating film, made for TV Donnie Darko when this quote came up: "A gonzo teen fantasy that's tripper, hornier and more apocalyptically funny than Donnie Darko," Oh, the coincidence!
The film features some really pretty college kids who smoke pot and do drugs most of time. They waste their time having sexual feelings for each other. In the midst of all of this there is a mystery and psychedelic craze stirring up in the background. Here is a small synopsis via Slashfilm.
Indie veteran Gregg Araki returns to the spotlight with KABOOM, a hyper-stylized Twin Peaks for the Coachella Generation, featuring a gorgeous, super-hot young cast. The film is a wild, sex-drenched, comical thriller that tells the story of Smith, an ambisexual 18-year-old college freshman who stumbles upon a monstrous conspiracy in a seemingly idyllic Southern California seaside town. KABOOM will make its US premiere at this year's Sundance Film Festival and is writer/director Araki's eighth film there since his breakthrough The Living End, including The Doom Generation to his masterpiece Mysterious Skin.