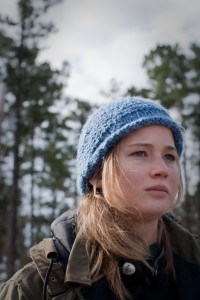 Jennifer Lawrence has been taking a lot of huge strides to safe guard the promises of the independent movement. She was first seen in the Charlize Theron produced film called The Burning Plain. She had received the Marcello Mastroianni Award for the film for young emerging actor/actress during the Venice Film Festival.
Her next big starring role came this year in Winter's Bone. The film has been getting a lot of praise after it was screened at this year's Sundance Film Festival. It went on to win the Grand Jury Prize at the festival. The trailer above is a really sorry piece of advertising. The movie is more minimal than all the sound effects to heighten the drama.
The film also stars Garret Dillahunt, John Hawkes and several other unknowns. This year has been sort of Jennifer Lawrence's year after Carey Mulligan took away all the glory. The film is the second film by Debra Granik. She adapted the novel by Daniel Woodrell about a 17 year old Ree Dolly whose father disappeared, leaving her family in dire financial straits.
The basic conflict comes out really well in the film but it is exaggerated in the trailer. So don't get fooled by the look of this trailer. The film has been getting a lot of praise in the press from major papers like The New York Times. So praise for the main protagonist is something of a good thing actually.
It is a tense, naturalistic thriller following this 17 year old Ree Dolly as she confronts the local criminal underworld and the harsh Ozark wilderness in order to track down her father, who has put up the family home for his bail. Winter Bone is certainly going to be the best movie of this year.
I also like the fact that Jennifer Lawrence looks really disconnected compared to what is portrayed in the film on the poster.