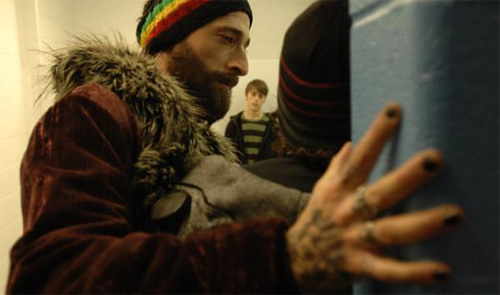 There have been so many people losing their minds at various points of their lives. But all this tyranny breeding and time to reconcile with ones darkness. When will we be able to come to terms with all that we have?
"HIGH school" – 4/20 TEASER from "HIGH school" on Vimeo.
Parallel Media has released the first teaser trailer for the Sundance stoner comedy called High School. This is where the new chaos reigns spoken by a fox in Antichrist. The movie tells the story about a high school valedictorian who must get his entire school stoned during a drug test or he won't graduate.
So in order to do this he turns to a local pot dealer madman, played insanely by Adrien Brody. He will be something to watch out in the trailer as well. At the Sundance Film Festival this year John Stalberg released his delirious film with a manic narrative and laced with deviant characters. There is only one all the characters in this film can reach and that is chaos. Lovely it is in all its forms.
The film stars Matt Bush, Sean Marquette, Colin Hanks, Michael Chiklis, Yeardley Smith and Adrien Brody. The film is expected to release this fall. Please look at this spot for all the updates on this film.