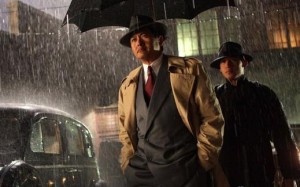 John Cusack has got himself into a little bit of a soup in his new film Shanghai. The film is directed by Mikael Hafstrom who is known for his work on silly films like Derailed and 1408. The cast includes John Cusack, Chow Yun Fat, Ken Watanabe, Jeffery Dean Morgan, David Morse, Franka Potente, Gong Li, Rinko Kikuchi and several other major South East Asian personalities.
The premise looks promising but a little too heavy handed. It is a thriller set in Shanghai, complete with shootouts and big secret government conspiracies and several other tiny things. The film is expected to hit some film festivals soon.
It is a 40s period pieces which revolves around an American expatriate who returns to Shanghai for few months before Pearl Harbor to investigate the mysterious death of his friend played by Jeffrey Dean Morgan.
The film is scripted by Hossein Amini famous for his work on Jude, The Wings of the Dove, The Four Feathers and also the recent DVD release Killshot. The distribution for the film was picked up by The Weinstein Company for a theatrical release this fall.