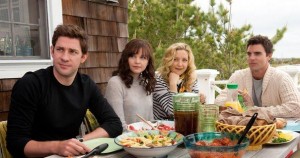 John Krasinski is really good at playing these roles. He really steals the show in this new film called Something Borrowed. The film is based on the Emily Giffin novel material, and generally Ginnifer Goodwin is really a star who really needs to get a great film role.
Here is an official synopsis.
As she waits to enter her 30th birthday party, Rachel White (Ginnifer Goodwin) can't escape the feeling that her life has not turned out like she thought it would. Sure, she has a good job at a prestigious Manhattan law firm, but she works long hours and her boss is a tyrant.
She has her childhood best friend, the beautiful and vivacious Darcy (Kate Hudson), but seeing her flirt with her handsome fiancé is just another reminder that at the end of the party, like every other night, she'll be going home alone. Except this time…she doesn't. Rachel wakes up the following morning next to Dex (Colin Egglesfield), her law school study partner…and Darcy's fiancé. Both of them are horrified. How could they let this happen?
They try to move on, but as the wedding approaches Rachel begins to realize that it wasn't a mistake after all and maybe Darcy isn't the friend she thought she was.
Now Rachel has to make a painful choice: her best friend or the love of her life?
Tell us what you think of this new trailer. It looks worth a watch.