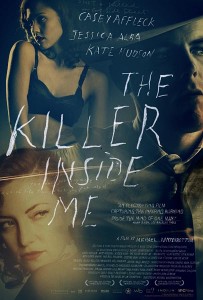 The new Michael Winterbottom film has been receiving a lot of flak for its very brutal violence against women is all set to release. IFC Films in the US has finally brought out a trailer for the film. The film centers on a sheriff Lou Ford played by Casey Affleck who is bored and waiting to destroy some lives.
Casey Affleck really works on his ruthless sociopathic look and gets it picture perfect. He plays a West Texan Cop who begins digging himself further and further into a hole by trying to cement his innocence when evidence looks suspicious. Jessica Alba, Kate Hudson, Simon Baker, Bill Pullman, Ned Beatty and Elias Koteas all are part of the cast.
The trailer takes a more conservative market approach. The film looks at two aspects the romantic relationships between the two women in his life and also his work as a sheriff. The film will be layered with a great performance by Casey Affleck. Even the rumors that Jessica Alba had walked out of the screening are completely untrue. Every single person was sure why they took up this project in the first place.
The film will be going into the mind of a twisted killer and also a study of evil as a metaphor for all the violence raged on this world.