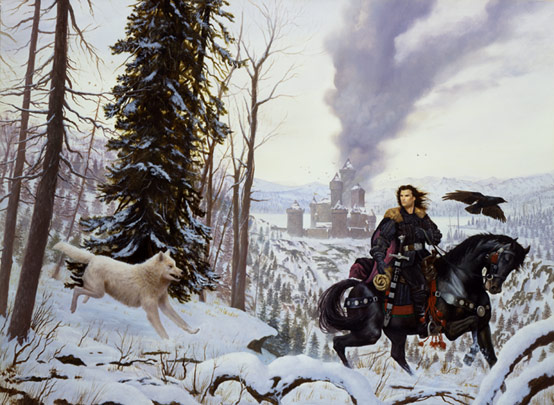 The only reason I m writing about this is because the pilot is being directed by Thomas McCarthy. Game of Thrones is a new series by HBO. So the trailer of the new series is a little too small it has to be longer than this.
The series is based on George R.R. martin's best selling fantasy novel series A Song of Fire and Ice. The show will be based on the first novel in the series. Martin has planned seven books in the series and there is a hope if all of the seven books will be made into seasons for TV.
The series will be set in the mythical land of Westeros tells the story of noble Stark Family who become caught up in high court intrigue when high patriarch Eddard becomes the king's new right hand man.
The cast Thomas gets to work with is something else. He has got D.B. Weiss, Sean Bean, Peter Dinklage and Lena Headley. So this will not just be fantasy but will also involve some high philosophy. This will be in the lines of Lord Of the Rings for the TV screen minus a lot of the special effects.
The official plot description behind the cover is given below.
Long ago, in a time forgotten, a preternatural event threw the seasons out of balance. In a land where summers can last decades and winters a lifetime, trouble is brewing. The cold is returning, and in the frozen wastes to the north of Winterfell, sinister and supernatural forces are massing beyond the kingdom's protective Wall. At the center of the conflict lie the Starks of Winterfell, a family as harsh and unyielding as the land they were born to. Sweeping from a land of brutal cold to a distant summertime kingdom of epicurean plenty, here is a tale of lords and ladies, soldiers and sorcerers, assassins and bastards, who come together in a time of grim omens. Here an enigmatic band of warriors bear swords of no human metal; a tribe of fierce wildlings carry men off into madness; a cruel young dragon prince barters his sister to win back his throne; and a determined woman undertakes the most treacherous of journeys. Amid plots and counterplots, tragedy and betrayal, victory and terror, the fate of the Starks, their allies, and their enemies hangs perilously in the balance, as each endeavors to win that deadliest of conflicts: the game of thrones.
The series will premier in Spring 2011.