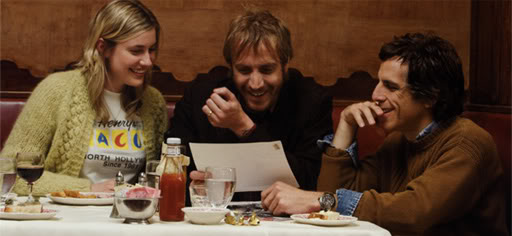 Noah Baumbach has just finished work on Fantastic Mr. Fox and is now hard at work at his next project called Greenburg. The film was co written with Noah's wife Jennifer Jason Leigh.
The film center on a New Yorker played by Ben Stiller who moves to L.A. to take care of his brother and figure out his life and ends up having a relationship with his brother's assistant.
Ben Stiller is a dysfunctional man at the crossroads of his life. Roger wants to do nothing for a while. So he agrees to take care of his brother who has turned out to be extremely successful. His younger brother played by Chris Messina who offers him a place to stay in L.A. While in town Ben Stiller's character tries to reconnect with his good friends and his band mates and stuff. But all these people have really changed. Rhy Ifans will play one of the best friends. Greenberg starts spending some time with his brother's assistant Florence. Florence is an aspiring singer and also a lost soul.
During a series of embarrassingly awkward romantic encounters, we see that their love slowly blossoms. But Greenberg has to get away from his thoughts of lifelessness to truly see the eyes of love. It is a modern take on the mishaps that happen during a relationship.
The film also stars Brie Larson, Juno Temple, chris Messina, Jennifer Jason Leigh and Mark Duplass. The film will be expected next year.