It is rare for just the trailer of a movie to get as much buzz as the teaser trailer did for The Secret Life of Walter Mitty this summer. But this trailer deserved the buzz, maybe because of its no talking, no voice over format made it feel like less of an advertisement and more like a story.
So if there is still doubt in your mind about seeing this film after that trailer, then you may need a defibrillator, because your heart is dead. Every year, there are several films that just resonate with me and Walter Mitty did that for me. I came out of the theater willing to change my life for the better, and inspired to do things I had long since written off as worthless. Walter Mitty may not be for everyone, and by that I mean it resonated with me, but it did not resonate with my married brother who recently became a father. He said the film was the sort of movie he would have loved back before he was married, but now it was simply a nice story.
The Secret Life of Walter Mitty is the story of a lonely uninteresting forty-something guy with an over-active imagination that can whisk him away into a daydream at any moment. He spends most of his time working alone in the dark as a negative asset manager with Time magazine. But when his company gets bought out and is threatening layoffs, he is swept up into situations he would only have dreamed about before.
Ben Stiller has moved away from his past work as a comedic actor (Zoolander, Meet the Parents, Little Fockers… ugh) and into the directors seat. Tropic Thunder(2008) was an unexpectedly fun romp and The Secret Life of Walter Mitty is definitely a departure from his comedic roots, but the change isn't bad. Pulling from the short story of the same title, Stiller recreated the sense of adventure fused with humor and hit home his message that a reality we make for ourselves is better than any dream. Stiller of course, does well acting as the socially awkward protagonist, Walter. His supporting cast are all very likeable and play excellently with Stiller. Kristen Wiig plays the just out of reach love interest. Adam Scott plays the corporate shark boss up to a sufficiently over-the-top level, and Sean Penn appears as the most interesting man in the world, Sean O'Connell.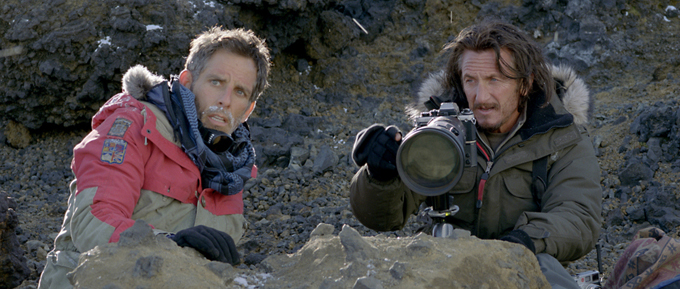 The visual adventure, though largely spoiled from the trailers, was still immensely satisfying given in context, although that may be because anything that isn't grey or white seems like paradise by mid-December where I live. The film often reminds the audience of the new setting and how strange it is that someone like Walter would ever be there. And to top it all off the great imagery is often accompanied by a soundtrack that I would say is fantastic, which includes great indie music by the likes of Arcade Fire, and smash-hit newcomers Of Monsters and Men (who also are responsible for the background song featured in the trailer).
The Secret Life of Walter Mitty is a fun, inspiring adventure that will be a worthwhile watch for almost anyone with a heart and a dream. The breathtaking visuals, clever humor, a solid cast, and hip, indie music combine to make this film a standout of 2013.