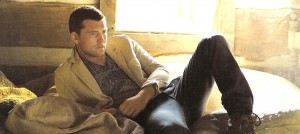 Michael Mann has just spilled on about his daughter taking up her first directorial venture. The film is titled The Fields, a fact based drama that marks the feature directing debut of Ami Canaan Mann who is Michael Mann's daughter.
Mann will produce the movie along with Michael Jaffe and shooting will begin in Louisiana on April 5 th. The drama is about a true story of a pair of detectives investigating a series of unsolved murders in a stretch of bayous near the oil refineries in coastal Texas where as many as 70 bodies have turned up over the past 30 year.
"Sam read it, met Ami, and he was in. And for me, this is a dream come true to enable Ami to do this," Michael Mann told. "Sam will be playing jack, this tough minded misanthropic Texan, who wish his partner Brian wind up waging something of a war against these unknown assailants, a ferocious battle to save each other and the life of this young street kid."
The film sounds really interesting. But I'm still not sure what is that Sam Worthington can bring to this role.