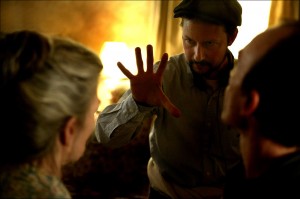 Todd Field will be finally letting go of Blood Meridian and will be taking on a new project called Hubris. He is known for his work on films like In the Bedroom and the powerful Little Children. The second movie was based on a book by Tom Perrota. The director was working on the script for Cormac McCarthy's greatest book Blood Meridian for a long and it will be now in development purgatory for a while.
Universal has now hired Todd Field to script another film called Hubris written by Bobby Moresco. There have been no details on what the planned project is going to be about. This is an interesting development, but this will leave Blood Meridian out to dry.
Hubris is a true crime gangster revenge film based on a 2007 Playboy article titled Boosting the Big Tuna by investigative reporter Hillel Levin and based on the FBI led Operations Family secrets trial, which covered the murders of men who burglarized Chicago mob's Vegas enforcer and the bass for Joe Pesci's character in Casino. Accardo had the killings commissioned after they robbed the man's house.
The plot gets thicker with the man named John Mendell in the epicenter. He was one of the burglars and one of Chicago's top wire men capable of tricking the most sophisticated alarm systems. A month before the Big Tuna break in, he had orchestrated a million dollar jewel heist. But jeweler magnate Harry Levinson was also friends with the mob boss Accardo who in turn stressed the thieves' lower rung on the mob food chain and then informed them he was taking their loot, and handing it over to his fences. Bitter and angry, they decided to steal back their own score as a type of fuck you to the mob. The film will be something to watch out for. There were also cops involved in this whole premise and that story might just happen in parallel.
The prosecution went on further and told that Accardo had ordered the killings of the burglar. This happened when Chicago Outfit turncoat Nicholas Calabrese, who had participated in all of the murders, affirmed this. Calabrese, the first man to ever testify against Chicago mob, was rattling everyone's name including his own father's, to save his own skin when the authorities later also linked him to the murders through DNA testing. The rest of the killers were all sentenced to long, near life terms.
Michael Mann is also trying to have Sheldon Turner to do another take on this film. The film has been tentatively titled Big Tuna. The Mann film will be too broad while the Todd Field version will be a little more specific. Accardo has been considered the greatest mob boss of all time so there will be a lot angles that can be covered with his story.
Source: Playlist via Hillel Levin article on Playboy