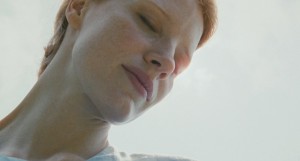 Everyone in the industry has woken up to the charm of the mother played in Tree of Life by Jessica Chastain. She has a string of projects lined up this year after many directors were given the oppurtunity to watch Tree of Life. Here are a list of projects she will be seen in the coming months.
1. She will be playing the young Helen Mirren in The Debt. This will be an action film along with Sam Worthing from the Avatar film.
2. There is another film that was a Sundance hit called Take Shelter and it also debut with a beautiful poster this year.
3. She will also be seen in the Ralph Fiennes directed film Coriolanus.
4. She will also be seen starring alongside Al Pacino in the film Wilde Salome.
5. John Hillcoat has also cast her in another one of his passion projects The Wettest County in the World.
6. She will also be working with Sam Worthington once again on Texas Killing Fields along with child star Chloe Moretz.
7. Finally she will also be seen in couple of weeks in the Emma Stone starrer The Help.
So her slate is full for the coming months and she is still hungry for more work. She has also signed on to mama a feature length remake of a 2008 short film by Spanish filmmaker Andres Muschietti that Universal will be putting together. The short, which involves two young girls pursued by a woman who wants to use them to bring back her own dead children with a story like this a remake is surely warranted. Guillermo Del Toro will be producing the film.
So it will be Chaistain will be a great casting addition to this project. Del Toro also has several other projects lined up like The Strain, the vampire novel that he co wrote with Chuck Hogan. The first issue of this graphic novel will be in stores on December 14 th. Tell us what you think of this great casting choice.