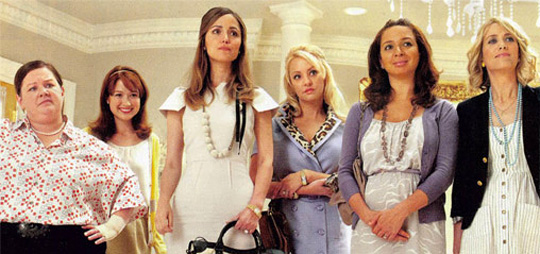 Here comes another romantic comedy in the chick territory. The casting was full flow for the Kristen Wiig and Annie Mumolo written film called Bridesmaids. Here is the first still from the film. We are expecting a trailer soon for the film.
The other cast includes Maya Rudolph, Rose Byrne, Jon Hamm, Dianne West, Matthew Lucas, Chris O'Dowd, Ellie Kemper, Melissa McCarthy and Wendy McLendon-Covey.
The cast is great and the film is directed by Paul Feig who is infamous for his films like I Am David and Unaccompanied Minors, but he has a lot of TV directing work on show like Arrested Development, The Office and Nurse Jackie. The film is not really a wedding movie and is more about friendship. The plot sees Byrne as the bridesmaid from hell who tries to take maid of honor duties from newbie Rudolph. The film might just turn into a hit and will be releasing the film next year around May.